Established in 1959, the Glendale Coin Club celebrated its 45th birthday in March, 2004!

The following account appeared in the May, 1996 issue of The GlenCoin News:

"Around Feb. 9, 1959, a[n] organizational meeting was called or initiated by A.C. Barlow, Earl G. Whitehead, and others, whose names have been lost thru neglect, and attended by about 14 people at 712 N. Central Ave. in Glendale. This was a office of Dr. Griffith Barlow.

"After considerable discussion a second meeting was called in March and after the word was passed around about a Coin Club in Glendale, there were about 68 persons present, and believe me it was crowded. At this meeting the usual format was followed, Earl G. Whitehead volunteered to preside, Reginald Wilkinson was acting Secretary, and other officers were not nominated as yet.

"The third [and fourth] meeting was held in the basement of the Glendale YMCA, not very sanitary, but is was a room with seats and the cost was not very much. Mr. Whitehead presided and further plans were initiated, relative to dues, By-laws, meeting night, and etc. We were in this room for two meetings.

"We then moved to the Tuesday Afternoon Club, in a [Ed. Note: a word like "Green" appears to be inserted here - GB] room in the front, and the officers elected for the first year, 1959 to July 1960: Vreeland H. Fraser, VP George Bennett, Sec. Reginald Wilkinson, and Irma Brown, Treasurer, good will ambassador, committee in charge of getting things done, room , coffee, refreshments, and other type of duties, collect money, which seemed very short, and etc.

"The maintenance of records was officially handled by the Secretary, but he being so much in demand, they are a little sketchy, from the files of the membership the following are the first charter members [Ed. Note: there is here a reference to an attached sheet, which unfortunately seems to have been separated and misplaced – GB].

"Due to accident, Vreeland Fraser was killed (note of 8/30/09 - I see in Calcoin News, Sept '59, the following: 'Fraser Dies in Crash: Vreeland H. Fraser, 4904 Alta Canada Rd., La Canada, Calif., was killed in an auto crash in Lancaster, Calif., July 21') and so George Bennett took charge in July 1959 and continued as our first president until 1960."

"Thereafter follows some reference to the White Elephant auction – gosh, it seems to have started in Feb. 1961; what a long history for that thing! Then there is a listing of what appears to be the first presidents:
59-60 Bennett
60-61 Wood
61-62 Young
62-63 Borgolt
63-64 Thompson
64-65 Doctor
"Anyway, if there's someone out there that likes to compile these types of things, give a shout and we'll have someone to throw it all at."
---
Here's a silver medal that was struck to commemorate the club's 30th anniversary in 1989 (it's engraved on the edge as number 14; I don't know how many in total were made); they were also struck in aluminum and bronze: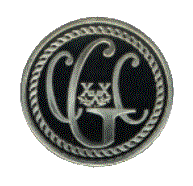 ---
(8/2000): We used to meet in the CalFed building at 401 N. Brand in Glendale. Starting in August 2000 our new meeting place was located at a bank community meeting room at 2350 Honolulu Avenue in Glendale (near the border of Montrose). The new place had a very big with a kitchen and plenty of chairs and tables. Wilfred Gamble finally had a place large enough to accommodate all of the hand-outs he travels around with and displays at the meetings.
(3/2003): Member Steve Albanese brought in an old newspaper clipping of the News-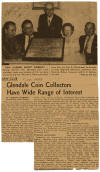 Press issue of December 15, 1959, just nine months after the club started. The clipping describes the beginnings of the club, some of the officers, and you can read it yourself by clicking on the thumbnail or <here>.
(3/2009): The Glendale Coin Club celebrated its 50th anniversary!
(3/2014): The Glendale Coin Club celebrated its 55th anniversary by having a special commemorative medal made. The medals were produced by Daniel Carr of the Moonlight Mint and were stuck in copper, silver and gold.
(8/2016): The Glendale Coin Club had a joint meeting with the Verdugo Hills Coin Club at the ANA World's Fair of Money that was held in Anaheim, California. Approximately 50 were in attendance, including ANA President Jeff Garrett and immediate past President of the ANA Walt Ostromecki. A special limited edition of 100 PCGS certified 2016 Australian Silver Kangaroo coins were issued by the clubs to commemorate the meeting.
(4/2017): After meeting in the bank community meeting room at 2350 Honolulu Avenue for over 15 years, the bank was sold and the meeting room was no longer available to the club. The Glendale Coin Club was able to secure a new meeting location at the La Crescenta Library, only a couple of minutes away from the previous meeting location. The Library is located at 2809 Foothill Blvd in La Crescenta and is a more modern and updated meeting room than the club previously had.